About the herbarium search map
The herbarium record search map was created to provide a way to search herbarium records in Washington when the server hosting the Web site of the University of Washington's Burke Herbarium — as well as that of the Consortium of Pacific Northwest Herbaria — was off-line for an extended period of time.
The database behind the map has since been expanded to include publicly available herbarium specimen databases from the entire CPNWH, including Oregon State University. Non-specimen observations and photos from OregonFlora are available as well. Data from northern California (above 37° latitude) comes from Jepson/UC Berkeley and the Consortium of California Herbaria. Citations for the data are listed below.
Search queries
You can search using the Latin/scientific name of a species, variety/subspecies, genus, or family; you can search for multiple taxa by entering a comma-separated list. But keep in mind that searching for a family or large genus can get messy and slow unless you're zoomed into a small area; and there's a limit to how many markers can be displayed on the map at once.
If you want to exclude certain species from the search results, include a piece of its name preceded by a hyphen in the search query. For example, to see all of the Lilium records EXCEPT those of Lilium columbianum, search for "Lilium -columbianum" — or just "Lilium -colum", because partial matches work too. Similarly, you could find all of the members of the lily famly except Lilium itself by searching for "Liliaceae -Lilium".
Symbols on the map
If your search returns a single taxon, all the markers on the map will be the same color. Each marker represents one or more specimens at a particular location; larger markers contain more than one record. (Which means there are usually fewer markers than records, in case you're wondering about the numeric discrepancies that sometimes seem to appear.)
If the results include more than one taxon, each will be given its own color. When two different taxa share the same location on the map, they will appear as a "clump" of different-colored markers.
Normal specimen records are circles; records whose location has been obscured are squares; non-specimen records (observations or photos) are triangles.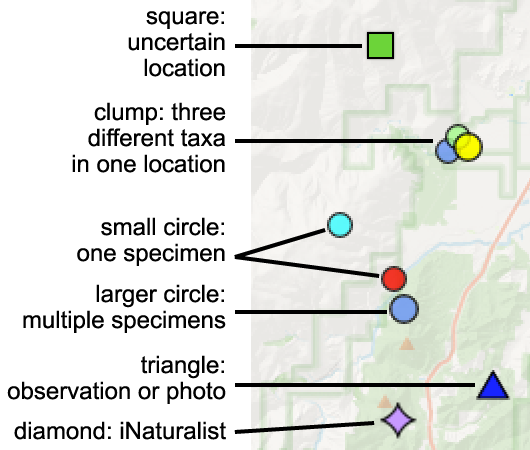 You can click on the markers to see more details. If a Web page is available with more details about the specimen, the catalog number will be a link to that page. (The italicized taxon name at the top of the info bubble is a link to WildflowerSearch.org, where you can find further links to many different sources.)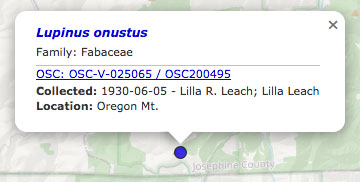 CPNWH
Consortium of Pacific Northwest Herbaria (2022). CPNWH Specimen Database. [Accessed on December 29, 2022: https://www.pnwherbaria.org]

Includes data from the following herbaria: ALA, BABY, BBLM, BLMMD, BOIS, CIC, COCC, CRMO, EVE, EWU, HAH, HJAEF, HPSU, HSC, ID, IDE, IDS, LEA, LINF, MONT, MONTU, MORA, NOCA, NY, OLYM, OSC, PLU, PSM, REED, RM, SAJH, SBLM, SEF, SOC, SRP, TFBLM, UAAH, UBC, UWB, V, VALE, WCW, WS, WTU, WWB

CCH
Consortium of California Herbaria (2023). CCH2 Portal. [Accessed on January 11, 2023: https://cch2.org/portal/]

Includes data from the following herbaria: A, BFRS, BLMAR, BLMRD, BORR, CATA, CDA, CHSC, CSLA, CSUSB, DAV, ELH, FSC, GDRC, GMDRC, HREC, HSC, IRVC, JROH, KNFY, LA, LOB, LVNP, MACF, MCCC, NCC, OBI, PPWD, PUA, RENO, RSA, SBBG, SCFS, SD, SDSU, SFSU, SFV, SHTC, SJSU, SPIF, STNF, THRI, UCR, UCSB, UCSC

JEPS
University of California, Berkeley (2023). The University and Jepson Herbaria. [Accessed on January 11, 2023: https://webapps.cspace.berkeley.edu/ucjeps/publicsearch/publicsearch/]
OF-FP
OregonFlora (2023). OregonFlora Species List Collection. [Accessed on January 13, 2023: https://oregonflora.org/collections/misc/collprofiles.php?collid=236]

Occurrence dataset: cbf59efd-03d8-4803-9925-7e105002012c

OF-OB
OregonFlora (2023). OregonFlora Field Photo Collection. [Accessed on January 13, 2023: https://oregonflora.org/collections/misc/collprofiles.php?collid=235]

Occurrence dataset: a39cfc30-d3b5-4335-9cfe-1afefefb8934

AS
Schneider, Adam (2023). Adam Schneider's Digital Photos. [Accessed on January 21, 2023: https://adamschneider.net/photos/]
(And a big thank you to David Giblin and John Haskins of the University of Washington for providing a copy of the CPNWH data despite the server crash.)