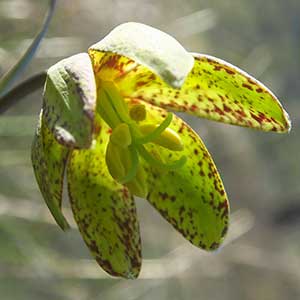 Siskiyou fritillaria, Siskiyou fritillary, Siskiyou missionbells
yellow bell, yellow fritillary, yellow mission bells
2–4, alternate, 3.5–9 cm;
blade lanceolate-oblong, sickle-shaped, glaucous.
2–8, subopposite to scattered, 3–20 cm;
blade linear to lanceolate.
nodding;
tepals purplish or greenish marked with yellow, lanceolate-oblong, 1.5–2.5 cm, apex not recurved;
nectaries green with maroon dots, broadly lanceolate, less than 1/2 tepal length;
style obviously branched for 1/2 its length, branches longer than 1.5 mm.
nodding;
tepals yellow to orange, some lined brown, aging to brick red, 0.8–2.2 cm;
nectaries near base of tepals, green, elliptic to round;
style unbranched.
Fritillaria pudica is highly variable and has one of the widest distributions of all the North American species of the genus. It was commonly used as food by Native Americans. The small bulbs were often eaten raw, and the larger ones were either dried or cooked in various ways. The Okanogan-Colville tribe used the appearance of F. pudica flowers as a sign that spring had arrived, and the Shuswap tribe used them in bouquets.
(Discussion copyrighted by Flora of North America; reprinted with permission.)